WACONIA PUBLIC SCHOOLS NAMED A TOP-20 MINNESOTA SCHOOL DISTRICT BY NICHE
Waconia Public Schools has been named a top-20 public school district in the state of Minnesota by Niche, an online platform that annually ranks K-12 schools as well as colleges and universities. In Niche's 2023 rankings, which were released on Monday, Sept. 26, Waconia Public Schools was ranked 19th on the platform's list of Best School Districts in Minnesota. 
The school district earned either an A-, A or A+ grade in eight major categories including Academics, Teachers, Clubs & Activities, Sports, Resources & Facilities, College Prep, Administration, and Food. 
ISD 110 also earned high placement on several of the platform's other ranked lists. The school district is ranked 15th out of 361 on Niche's list titled "Districts with the Best Teachers in Minnesota." On the list titled "Best School Districts for Athletes in Minnesota," the school district is ranked 34th out of 357 districts. 
In addition, all three of the district's elementary schools were ranked in the top 15% of the state's 887 elementary schools that Niche chose to rank for 2023. 
"This news is a result of the combination of our rigorous academic programs, a dedicated and highly qualified group of teachers and staff, and our commitment to providing opportunities to our students in the areas of athletics, fine arts and other co-curricular and extra-curricular activities," Superintendent Brian Gersich said. "Rankings shouldn't necessarily define a school district, but they are a piece to the puzzle when families are choosing where to live and send their kids to school. I think what this particular set of rankings says is that there are a number of good reasons why a family would choose to send their kids to Waconia Public Schools."
Niche's methodology includes a number of data points including state assessment proficiency, graduation rates, student to teacher ratios, and Advanced Placement enrollment, as well as parent and student survey data.
Visit https://bit.ly/WaconiaNiche to view the school district's Niche profile page and to learn more about the platform's 2023 rankings. 
THREE HIGH SCHOOL STUDENTS RECOGNIZED BY NATIONAL MERIT SCHOLARSHIP PROGRAM
Three Waconia High School seniors have recently been recognized by the National Merit Scholarship Program for achieving high scores on the Preliminary SAT/National Merit Scholarship Qualifying Test (PSAT/NMSQT), which is taken by more than 1.5 million 11th graders each year. 
Senior Jack Gootzeit is one of approximately 16,000 students across the nation who took the PSAT/NMSQT to be named a National Merit Semifinalist for 2023. Gootzeit will now have the opportunity to fulfill several requirements to be named a finalist in February and potentially earn one of the 7,500 National Merit Scholarships that will be awarded next Spring. 
Seniors Cadence Peterson and Annabelle Herold have both been named National Merit Commended Students for 2023, meaning they placed in the top 3% of students who took the PSAT/NMSQT. About 34,000 Commended Students are recognized throughout the nation each year for their exceptional academic promise.
"We are incredibly proud of Jack, Cadence and Annabelle for being recognized by the National Merit Scholarship Program," Waconia High School Principal Paul Sparby said. "These honors are a testament to not only their personal dedication and hard work toward their academic studies, but also the rigorous academic programs and dedicated teachers we have here at Waconia Public Schools."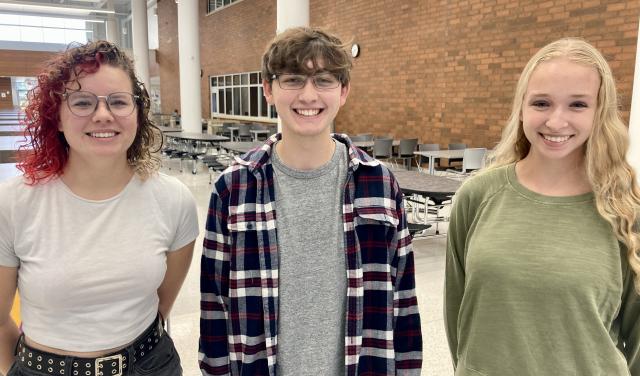 HIGH SCHOOL THEATRE PROGRAM TO PRESENT MAMMA MIA! OCT. 13-15
The Waconia High School Theatre Program will present its Fall Musical, Mamma Mia!, Oct. 13-15 at the Waconia High School Performing Arts Center. Showtimes are 7 p.m. on Oct. 13-15, with an additional 2 p.m. matinee scheduled for Oct. 15. Tickets are now on sale and can be purchased online by visiting www.bit.ly/WaconiaTickets. Tickets are general admission and are $8 for adults and $6 for students. 
Told through the legendary music of ABBA, Mamma Mia! is set on a small Greek island as Sophie dreams of a perfect wedding – one which includes her father giving her away. The problem? Sophie doesn't know who he is. Her mother Donna, the former lead singer of the 1970s pop group Donna and the Dynamos, refuses to talk about the past, so Sophie decides to take matters into her own hands. Sneaking a peek in her mother's old diaries, she discovers three possible fathers: Sam, Bill, and Harry. She secretly invites all three to the wedding, convinced that she'll know her father when she sees him. But when all three turn up, it may not be as clear as she thought! 
MIDDLE SCHOOL THEATRE PROGRAM TO PRESENT THE LION, THE WITCH, AND THE WARDROBE OCT. 27-29
The Waconia Middle School Theatre Program will present its fall play, The Lion, the Witch, and the Wardrobe, with four performances scheduled for Oct. 27-29 at the Waconia Middle School Auditorium. Performances will be held at 7:00 p.m. on Oct. 27-29, with an additional 2:00 p.m. matinee slated for Saturday, Oct. 29.
Tickets are general admission and are now available for purchase online. Tickets are $8 for adults, $6 for students, and can be purchased by visiting www.bit.ly/WaconiaTickets. 
The Lion, the Witch, and the Wardrobe story is about the adventures of the four Pevensie children – Peter, Susan, Edmund, and Lucy – who discover a magical wardrobe that transports them to the fantastical world of Narnia. Narnia is cursed by an evil White Witch who makes every day winter but never Christmas. Talking Beavers introduce the children to Aslan, a lion and the King of Narnia, and work with him and his loyal followers to defeat the witch and restore Narnia to its former glory.
Waconia Middle School's production of The Lion, the Witch, and the Wardrobe is dramatized by Joseph Robinette and produced by special arrangement with the Dramatic Publishing Company of Woodstock, Illinois.
FOUR SCHOOL BOARD SEATS UP FOR ELECTION ON NOV. 8
The Board of Education for Waconia Public Schools will have four seats up for election on the ballot on Tuesday, November 8.  Members are elected to serve 4-year terms that will begin in January of 2023 and expire in December of 2026. Click here to find out more information about serving as a school board member in ISD 110. Candidates include Chad Almjeld, Kelly Amott, Jesse Bergstrom, Tyler Gangestad, Melanie Hagen, Kimberly Kelzer-Breeden, Steve Minor and Katherine Sodey. The Waconia Education Association (WEA) hosted a candidate forum on Tuesday, Sept. 27. The recording from that event can be viewed on demand on the WEA Facebook page. A second candidate forum, hosted by Waconia Community Education and the League of Women Voters, is scheduled for 7:00 p.m. on Tuesday, Oct. 4 at the Waconia City Hall Council Chambers. 
WHS STUDENTS NAMED STUDENT SCHOOL BOARD REPRESENTATIVES
Waconia High School students Stella Atkinson and Sam Stanton were sworn in as Student Representatives on the School Board at the board's Regular Meeting on Monday, Sept. 26. Atkinson and Stanton were selected from a pool of seven candidates following an interview process with Superintendent Gersich, Chair Dana Geller, and Vice Chair Jackie Johnson.
Atkinson is involved in the Newspaper Club at Waconia High School and also spends time volunteering at Lowry Nature Center. Stanton is a member and captain of the boys tennis team, plans to go out for the swimming and diving team this year, is part of the Speech Club, and is a student manager for the girls tennis team.