Posted July 29, 2020
Free Food Distribution Event
Date: Wed, Aug 12
Time: 3:00 pm - 6:00 pm
Location: Waconia High School
Drive-thru and contact free food distribution event (while supplies last). All are welcome. Produce and dairy products.

Please remain in your car (no walk-ups allowed) and volunteers will place food pack in your trunk.

Enter from Community Drive west of the building, and exit back on to Community Drive to the east.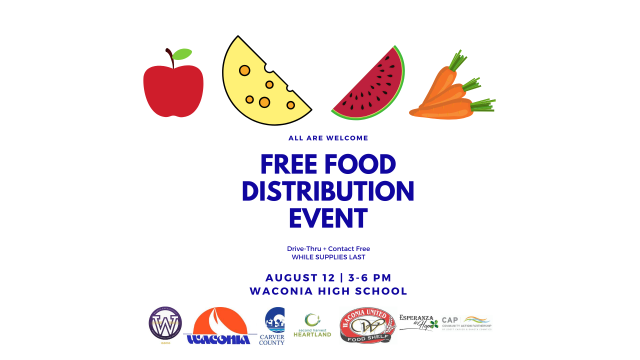 Posted July 27, 2020 - Jostens Pix
Picture Day - Friday, September 11 (Grades 9-11)
Retake Picture Day - Friday, October 9 (Grades 9 - 11)
Posted July 22, 2020 - Message from Cafe110
HIGH SCHOOL LUNCH INFORMATION: 
Our District uses family accounts; all students in your family will charge purchases to the same balance. To access your family lunch account, please log into: www.isd110.org, click on "My Accounts," sign in and then "SmartSchoolK12." 
If you have difficulty logging into "My Accounts", please email Jane Garnatz at jgarnatz@isd110.org for help. If you have trouble getting into SmartSchoolK12, please call #800-934-2621.  You will not need a registration key once your account is set up by the district.
Once you are in your account, click on the knife/plate icon to access your family lunch account.  
Click on "Family Accounts" tab 
- Select "Add Funds" to add money using a credit card (Feezee)
- Select "Show Transactions" to see everything that your family members have eaten this school year.   
- Select the "Auto-Refill" to choose the amount of money that you'd like to automatically be deposited into your family account via credit card once your account reaches a designated amount.
- Add a Family User - allows you to add additional contacts and emails that you would like to also access the family account and receive low balance notifications.
- Select "Change notification settings" (currently, you will be notified once your family account goes negative).  You can adjust this to notify you sooner.  Please make sure you have the box checked to "send me balance notifications via email" under the Account Management button and select "Save".  
Our lunch Point of Sale System works in real-time, meaning that when your student purchases anything in the serving lines (breakfast or lunch), the money is deducted immediately from your family account.  Always make sure you have enough money in your family account to cover all meals/purchases for that day.  If the account is negative, your student may be offered an amended meal (sandwich, fruit, vegetable, and milk).
If you have questions regarding the high school lunch program, please contact Sara at SPingeon@isd110.org
Posted July 20, 2020
Activities update from Jill Johnson, Student Activities Director.
We would like to share a brief update in regards to the upcoming 2020 Fall Activities Season:
As of today, Monday, July 20, 2020:
1) The current plan is to start MSHSL fall sports as previously scheduled on Mon, Aug 17. Please note: Tuesday, Aug 18th is the scheduled start date for our Wildcat Cross Country Program.
2) Return to activities participation will be dependent on announcements regarding the 2020-2021 school year from the Governor, MN Dept. of Education, and MN Dept. of Health. It is anticipated that decisions/announcements regarding the 2020-2021 school year will be made by the Governor during the week of July 27.
3) There will not be a final/definitive answer on fall sports/activities until the week of August 3, which is when the next Minnesota State High School League (MSHSL) Board Meeting is scheduled to take place
* The MSHSL has created a task force to gather/review numerous contingency plans depending on what return to school looks like. Guiding principles for the task force include: ensuring the physical, social and mental health and safety of students and staff and providing an education-based opportunity for participation in each sport/activity. All options are being discussed/considered and each sport/activity will be reviewed individually.
4) Waconia Schools will open registration for fall sports/activities (provided a fall season is approved) no sooner than Thursday, August 6th. 
5) Just a quick reminder that all students need a sports physical in order to participate. However, due to COVID-19, the MSHSL has granted an extension so that a student that has a current physical on file that has, or will, expire at any time from March 13, 2020 through the conclusion of the 2020-2021 school year will have the clearance extended through the completion of the 2020-2021 school year.
Thank you and enjoy the remainder of summer!
Jill
Posted July 17, 2020
Please see the attachment regarding Senior Portrait Yearbook and Baby Advertisement information.
Deadline for both is Friday, October 30th.
Click the link below to pay fees and purchase Wildcat apparel