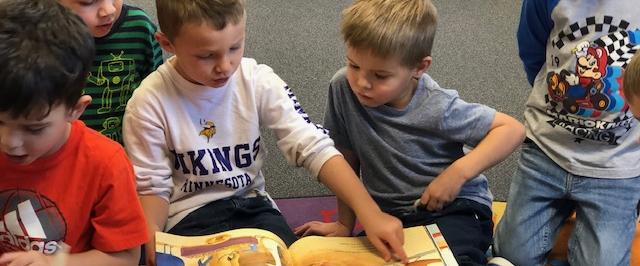 Early Childhood Programs 952-442-0613
520 Industrial Blvd.  Waconia, MN  55387
For registration information follow this link:  Registration
Calling all cubs who want to be a Wildcat!  We would like to invite you to consider District 110 Waconia Wildcat Preschool for the 2021-2022 school year.  Private tours can also be arranged by emailing, bbuesgens@isd110.org or calling 952-442-0613.  Registration for CURRENT families begins Monday, March 1 and continue through Friday, March 12.  NEW families may begin enrolling online on Wednesday, March 17 at 7:30 am.

Goals of District 110 Preschool Programs
At ISD110, our mission is to allow students to explore their passions and create success.  In early childhood we give children a high quality preschool experience in partnership with parents.  We strive to educate, collaborate, challenge, empower and support families, nurture development and treat all with respect.
We believe:
Parents are children's first and most important teachers
Licensed teachers nurture and provide structure to support young learners and parents
Research based curriculum embedded with standardized goals will provide learning to ensure kindergarten readiness
Classroom environments should be carefully designed to support developmentally appropriate exploration for preschool children
Play opens the world of learning for the preschool child

We are a Pyramid Model School
Pyramid model is a social and emotional framework incorporated into the curriculum to ensure high quality classrooms for all students. Teachers are supported to implement this framework through the Minnesota Centers of Excellence.  Children will benefit from this program through learning life long skills such as:  friendship, self regulation, problem solving and learning about emotions. 
Parent Aware
Waconia Wildcat Preschool earned a Four Star Parent Aware Rating.  Parent Aware Star Ratings help parents find programs that go above and beyond to prepare children for school and life. To earn this top rating, a program must demonstrate the following:
Exemplifies a truly engaged school readiness program for parents
Conducts ongoing assessment of student's progress
Continually adapts lesson plans and goals to meet individual needs 
Regularly updates parents on child's progress
Has staff trained on children's developmental disabilities
Communicates across cultures
Provides staff with annual professional development on relevant early childhood topics 
Class Activities Promote Age Appropriate:
Social/Emotional Skills
interacting with peers and adults
learning class rules and routines
developing self-regulation
learning about emotions
problem solving
friendship skills
Self-Help Skills
performing tasks independently
following health and safety rules
Physical Skills
eye-hand coordination
cutting and drawing
coordinating body movements
outdoor and indoor play
Science
STEM activities
building curiosity in our natural world
Concept Skills
colors
numbers, counting
shapes, sizes, sequencing
name recognition
patterns and sorting
literacy skills, such as vocabulary, comprehension, letter recognition, concepts of print, and phonemic awareness

Curriculum
District 110 Preschool uses Opening the World of Learning (OWL) curriculum and assessment. This research-based curriculum meets the state and federal standards for high-quality early childhood programs, including the Minnesota Early Learning Standards, Parent Aware, and the Early Childhood Indicators of Progress.
 
The curriculum, which has a strong focus on literacy and math skills, is organized around units. The daily schedule includes group circle time activities, center time activities, large muscle play, snack, and small-group time. Center time activities allow children to make choices in play and to practice social skills in a variety of learning stations. They include block play, dramatic play, sensory play, toys and manipulatives, art, and learning readiness small-group activities.
 
Wildcat Discovery Park offers children a nature-based outdoor playground experience. An early childhood edible garden, a fort building area, a unique sand box created out of logs, and traditional play equipment are available.
Waconia Preschool programs are an inclusion preschool and open to all children.
For financial assistance please contact the Early Childhood Department for more information.