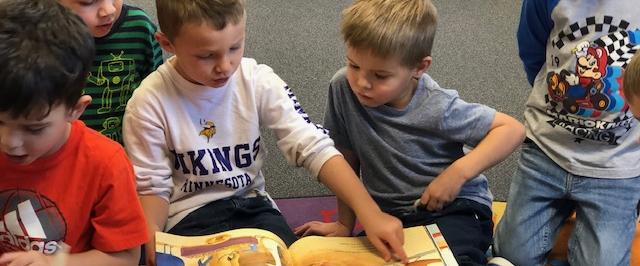 For registration information follow this link:  Registration
Calling all cubs who want to be a Wildcat!  We would like to invite you to consider District 110 Waconia Wildcat Preschool for the 2020-2021 school year.  You will find the same class offerings for traditional preschool and family preschool, but now are one name, Waconia Wildcat Preschool.  Private tours can also be arranged by emailing, sforster@isd110.org or calling 952-442-0613.  Registration in now open.

Goals of District 110 Preschool Programs
• To promote curiosity in children by building skills of investigation, purposeful questioning, and exploration
• To support children's physical, social, intellectual, and emotional development during the important early years of life, including children with unique learning needs that require special intervention
 • To provide a nurturing, stimulating, and culturally responsive environment serving a diverse and inclusive population
 • To encourage parent involvement in children's learning, development, and education
 • To foster healthy relationships and effective communication between parents and children

Class Activities Promote Age Appropriate:
Social/Emotional Skills
interacting with peers and adults
learning class rules and routines
developing self-regulation
Self-Help Skills
performing tasks independently
following health and safety rules
Physical Skills
eye-hand coordination
cutting and drawing
coordinating body movements
outdoor and indoor play
Science
STEM activities
building curiosity in our natural world
Concept Skills
colors
numbers, counting
shapes, sizes, sequencing
name recognition
patterns and sorting
literacy skills, such as vocabulary, comprehension, letter recognition, concepts of print, and phonemic awareness

Curriculum
District 110 Preschool uses Opening the World of Learning (OWL) curriculum and assessment. This research-based curriculum meets the state and federal standards for high-quality early childhood programs, including the Minnesota Early Learning Standards, Parent Aware, and the Early Childhood Indicators of Progress.
 
The curriculum, which has a strong focus on literacy and math skills, is organized around units. The daily schedule includes group circle time activities, center time activities, large muscle play, snack, and small-group time. Center time activities allow children to make choices in play and to practice social skills in a variety of learning stations. They include block play, dramatic play, sensory play, toys and manipulatives, art, and learning readiness small-group activities.
 
Wildcat Discovery Park offers children a nature-based outdoor playground experience. An early childhood edible garden, a fort building area, a unique sand box created out of logs, and traditional play equipment are available.
Waconia Preschool programs are an inclusion preschool and open to all children.