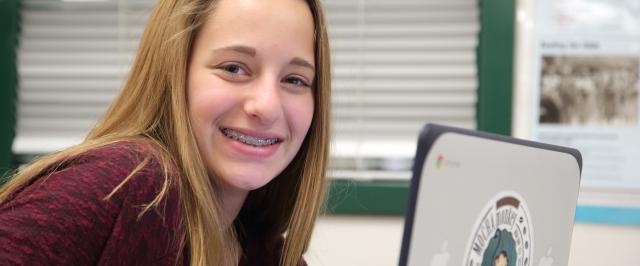 EIGHTEEN WMS STUDENTS NAMED TO UW-EAU CLAIRE HONOR BAND
We are excited to announce that 18 Waconia Middle School students have been accepted into the University of Wisconsin-Eau Claire Honor Band for January 27. This is the highest number of Waconia students that have ever been accepted to this honor ensemble. The students will travel to the UW-Eau Claire campus and rehearse with music educators Renee Radamaker, Dr. John R. Stewart, Director of Concert Bands, and Dr. Phil Ostrander before performing a concert later that evening. Congratulations to the following students:
7th Grader Marcus Bauer, Percussion; 8th Grader Alaina Bode, Trombone; 7th Grader Riley Collins, Alto Saxophone; 8th Grader Teagan Collins, Oboe; 8th Grader Maddie Hartmann, Clarinet; 8th Grader Sonja Johnson, Flute; 7th Grader Megan Lewis, French Horn; 8th Grader Venice Lonnes, Clarinet; 7th Grader Anna Ludford, Percussion; 8th Grader Bennet McCurry, Tuba; 7th Grader John Meyeres, Percussion; 7th Grader Kate Stineman, Percussion; 8th Grader Lauren Thaemert, Clarinet; 7th Grader Becca Thomas, Trumpet; 8th Grader Andie Tiller, Flute; 8th Grader Mia Tiller, Oboe; 8th Grader Miles Tyhurst, Clarinet; 8th Grader Everett Worm, Baritone. 
Winter Weather Reminders
If inclement weather forces District leaders to cancel in-person instruction during the 2022-23 school year, the first two instances would result in no-school days for students. Any subsequent weather-related closures would result in the District implementing a flex-learning day. Students in grades 5-12 would use their devices to access learning plans on Schoology. Families with students in grades K-4 would receive learning plans via email from teachers that morning. 
If inclement weather causes a school closure, every effort will be made to to make a decision by 6:00 a.m. the morning of the cancellation. Notification will be sent directly to families through Infinite Campus by phone, email and text message. Information will also be posted on the District website (www.isd110.org) and on the District's social media channels including Facebook, Twitter and Instagram. Notification will also be sent to local television stations WCCO-4, KSTP-5, FOX-9 and KARE-11. 
When school is canceled for K-12 students and when students are dismissed early due to worsening weather conditions, it also means the cancellation of the following programs and activities: 
Wildcat Preschool
ECFE
ECSE
Before and after school programs and extracurricular activities
Field trips
Community Education classes, events, practices and games
Building events including permits held by outside organizations
Please note that athletic cancellations are decided on an individual basis. Schedule changes will be posted on the Metro West Conference website at metrowestconference.org. 
Kids' Company before and after school childcare will be closed when school is canceled for the entire day. In the event of a two-hour late start, Kids' Company will open at 8:00 a.m. In the event of an early dismissal, Kids' Company will remain open until further notice. 
Families are reminded to login to Infinite Campus to make sure their contact information is up to date and accurate in order to ensure that they receive timely weather-related information. Watch this short video for instructions on how to update your contact information in Infinite Campus: https://youtu.be/5VhQJ02W18w. 
Britta DeVinny Named WMS 2022 Essence Award Winner 
Waconia Middle School's Essence Award recipient is an influential leader in ISD 110 that has served as a mentor, advisor, and valued leader for over a decade at Waconia Middle School.   Some words that come to mind that highlight her personal and professional strengths include being innovative, committed, and highly influential in creating positive learning environments for both students and staff at Waconia Middle School
A known characteristic of great versus good teachers is setting high expectations and guiding people to achieve more than they thought they could.  Students, staff, and families can readily share personal stories that highlight her commitment to challenging students using innovative methods of lesson design, high levels of rigor, and setting high expectations.  In her years at WMS, she has pioneered proven strategies and instructional practices in evaluating students' progress…ensuring fairness, and accuracy while fully challenging students at a rigor level that pushes students to meet and exceed expectations.
Waconia Public Schools Named a Top-20 School District in Minnesota by Niche
Waconia Public Schools has been named a top-20 public school district in the state of Minnesota by Niche, an online platform that annually ranks K-12 schools as well as colleges and universities. In Niche's 2023 rankings, which were released on Monday, Sept. 26, Waconia Public Schools was ranked 19th on the platform's list of Best School Districts in Minnesota. 
The school district earned either an A-, A or A+ grade in eight major categories including Academics, Teachers, Clubs & Activities, Sports, Resources & Facilities, College Prep, Administration, and Food. 
ISD 110 also earned high placement on several of the platform's other ranked lists. The school district is ranked 15th out of 361 on Niche's list titled "Districts with the Best Teachers in Minnesota." On the list titled "Best School Districts for Athletes in Minnesota," the school district is ranked 34th out of 357 districts. 
In addition, all three of the district's elementary schools were ranked in the top 15% of the state's 887 elementary schools that Niche chose to rank for 2023. 
"This news is a result of the combination of our rigorous academic programs, a dedicated and highly qualified group of teachers and staff, and our commitment to providing opportunities to our students in the areas of athletics, fine arts and other co-curricular and extra-curricular activities," Superintendent Brian Gersich said. "Rankings shouldn't necessarily define a school district, but they are a piece to the puzzle when families are choosing where to live and send their kids to school. I think what this particular set of rankings says is that there are a number of good reasons why a family would choose to send their kids to Waconia Public Schools."
Niche's methodology includes a number of data points including state assessment proficiency, graduation rates, student to teacher ratios, and Advanced Placement enrollment, as well as parent and student survey data.
Visit https://bit.ly/WaconiaNiche to view the school district's Niche profile page and to learn more about the platform's 2023 rankings.