On November 3, voters in ISD 110 will be asked to vote on a request to increase school funding. Levy 2020 would increase funding in Waconia Public Schools by $410 per student which would generate $1.7 million annually. 
Q. If a family member is tested for Covid-19, do the rest of the family members need to quarantine? 
A. If anyone in a household has pending COVID-19 test results, then everyone in the home needs to quarantine until test results are known. The only rare exemption to this is when someone in a household is routinely checked due to their line of work (Health Care, Nursing Home, etc.). However, if a person works in these environments and is tested due to having symptoms or being a close contact, then everyone in the home needs to quarantine until the test results come back. 
Q. Why is ISD 110 in the bottom 1% in terms of how much general education funding the district receives from the state? 
A. The amount is calculated through what is called categorical aid. Here is the state's definition of categorical aid: declining pupil; gifted & talented; referendum; local option revenue; Qcomp; equity; compensatory; compensatory pilot; limited English proficiency; extended time; pension adjustment; operating capital; sparsity; transportation sparsity; school trust lands endowment; transition; small schools; optional charter transportation; optional Faribault academies.
Due to our demographics, ISD 110 qualifies for very little categorical aid. This is why Waconia receives about $7,100 per student from the state while other districts receive as much as $13,000 per student. 
Q. Why is Waconia Schools asking for additional funds when they had an operating levy passed in the 2018 election? 
A. Voters approved an operating levy in 2018 for $525 per student. Those funds were supposed to help cover the state's funding gap for general education expenses for the next several years. When the state changed how it funds schools for special education expenses, this created another funding gap and the revenue generated from the 2018 operating levy was needed to cover the new special education funding gap.
Q. Is this levy connected to extra expenses related to Covid-19? 
A. Levy 2020 is not connected to extra expenses that the district has incurred due to Covid-19. The district has received funds to help offset Covid-19 expenses.  That may change but, for now, the district's Covid-19 expenses are covered. 
Q. Does the district understand that we are in a pandemic and there are many struggles that people are facing? 
A. As Superintendent Pat Devine has been saying in his virtual town hall meetings, "We don't want to be here. We know these are tough times for people and we wouldn't be here if state funding would be at a higher level. Out of 330 districts, ISD 110 ranks 328th when it comes to how much funding we get from the state. We get about $7,100 per student where other districts, for various reasons, get upwards of $12,000 per student." 
Q. What happened when the state changed the way it reimburses school districts for special education expenses? 
A. When the state of Minnesota changed how it funds schools for special education expenses, Waconia Public Schools budget was hit hard. Even those at the state who wrote the legislation said that there was no way for us to see this coming. The amount of money the district pays out of general education funds for unfunded state special education mandates is called the cross-subsidy. The cross-subsidy for Waconia Public Schools grew from $600 per student to $1200 per student. That's an increase of $2,445,773 per year.
Q. What would happen if the operating levy passes versus it not passing? 
A. See below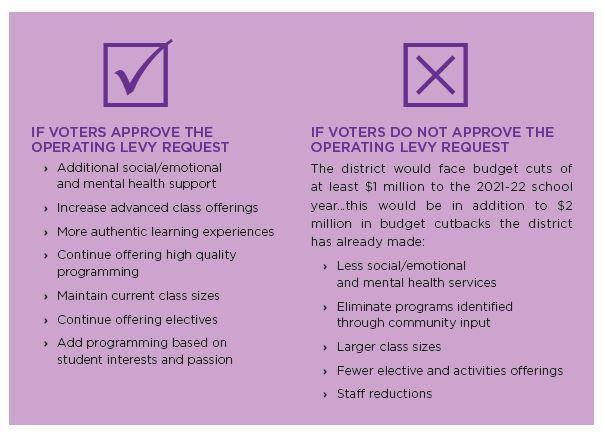 Q. How many budget cuts have already been made? 
A. Waconia Public Schools has already made $2 million in budget cuts and faces additional budget cuts of at least $1 million for the 2021-2022 school year if voters do not approve Levy 2020 on the November ballot.
Q. How does ISD 110 compare to surrounding districts in voter-approved operating levy dollars? 
A. Even if voters approve Waconia Public Schools Levy 2020, the district would still remain below the metro average of voter-approved operating levy funds.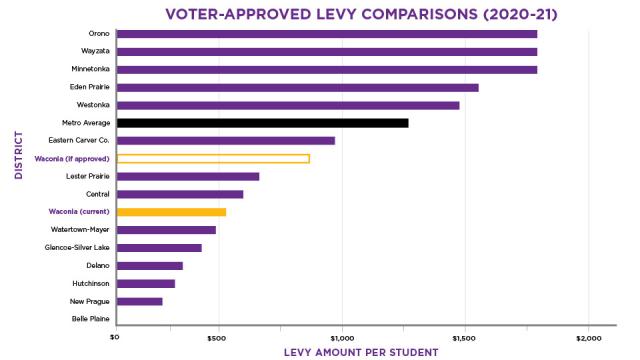 Q. Is this underfunding of special education something that is predicted to continue into the future? 
A. That is a hard one to answer. Nobody knows. What we do know is that Superintendent Pat Devine has testified numerous times at the State Capitol and is in contact with our local legislators and other superintendents whose districts have been affected by this change. Superintendent Devine will continue being vocal at the state level this coming legislative session. 
Q. With the predicted growth in the area, how would that impact the district's financial situation?
A. If there is a big increase in the student population, those extra funds that would be coming in as a result, would be taken into consideration. Also, if the state changes the way it funds Waconia Public Schools and ISD 110 finds itself with "extra funds", the school board does have the option to lower the operating levy amount. The school board needs to go to voters to increase an operating levy...but does not need voter approval to lower it. 
Q. Can parents do anything to help out the district with its' plea to state legislators? 
A. Yes. People who are inclined to do so, are encouraged to reach out to their state legislators. 
Q. Can you share specific programs that would be cut if the levy does not pass? 
A. The district would work with the community and look for input on which programs to keep and which ones to cut.