We encourage you to contact us with your questions about the referendum. You can submit an inquiry using the following contact information.
Email: referendum2018@isd110.org
Q. Why is the school district asking voters to approve a property tax increase? 
The vast majority of funding for school district operations - 85% - comes from the state of Minnesota. State funding has not kept pace with inflation or increasing costs. In fact, Waconia Public Schools is in the bottom 1% of all Minnesota school districts in state funding per student, ranking 328 out of 331. The district has been drawing down its fund balance to cover costs, but that approach is no longer sustainable and, if current educational programming is to continue, the district is in need of additional revenue. [learn more]
Q. I thought voters approved a referendum a few years ago?
Residents approved bond funding in 2014 to build a new elementary school and renovate the middle and high schools. However, those funds can only be used for construction and renovations. Operating levies are a legally separate funding stream that voters can approve to support classrooms and educational programs.
Q. Right now, how much support does the school district get from voter approved operating levies?
There are currently no voter approved operating levies in the district.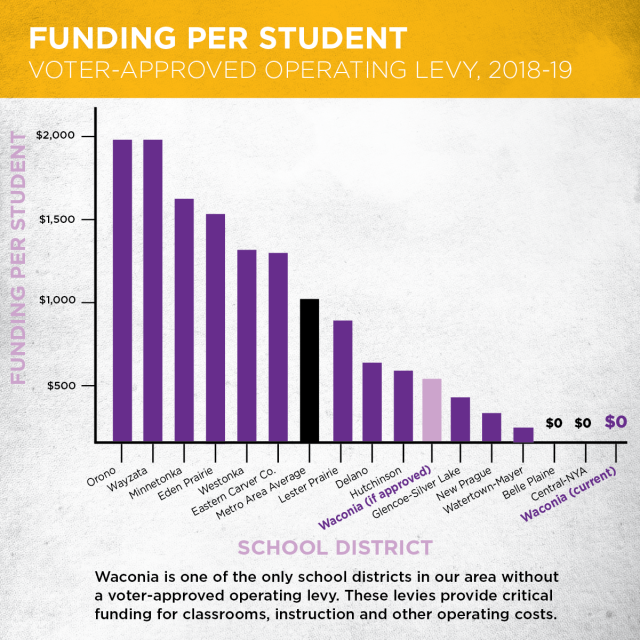 Q. How much funding would this give the district?
If the operating levy is approved, it would result in about $2.2 million in new operating revenue each year. That would be about $525 per student. 
Q. How much additional will I have to pay if the referendum is approved?
The tax impact for the average home in the district – $300,000 home value – would be about $23 per month or approximately $280 per year. [learn more]
Q. How do I calculate the tax impact on my business? 
While on the tax calculator page, click on "Other Calculator", and then choose from the drop down list. [tax calculator link]
Q. What do operating levies pay for? 
Operating levies support day-to-day school and district operating expenses in support of student learning, including: retaining quality teachers and staff; classroom materials; school supplies; utilities; transportation.   
Q. If the referendum passes, will it include funding for a boys tennis team and a boys swim team? 
If the referendum passes, all potential activity program additions will be explored. We would follow the process used with all new programs where there is a verified student interest. It is our goal to provide programs that fit the passions of students when there are enough students to form a team and it is financially appropriate. 
Q. How do ISD110 district administrative costs compare to districts of similar size in Minnesota?
Financial auditors have consistently stated that Waconia Public Schools administration is 20% smaller than similar sized districts and 25% below the state average. In terms of staffing, the ISD110 leadership team is about 4 to 6 administrators below comparable districts.   
Q. Are other school district's dealing with this state funding shortfall?
Yes. A recent article in the Minneapolis Star Tribune describes other districts facing similar challenges. [READ ARTICLE]