Southwest Metro e-Learning Enterprise (SEE)
On July 16th the Minnesota Department of Education (MDE) announced that students and families must be given the choice for in-person classes or online classes for the 2021 – 2022 school year.
In cooperation with more than a dozen school districts, Waconia Public Schools will offer a fully online enrollment option for K-12 families, while maintaining a place for you in your school.
This collaborative program called the Southwest Metro e-Learning Enterprise (SEE) will be available throughout the year, offering full-time and part-time curriculum with "live" online teaching of MDE approved courses for all grades K through 12. SWMetro has been offering online courses for more than a decade.
Students will attend school online each day and work with teachers to complete learning activities in real-time by video conferencing and private tutorials. Both teacher-guided and independent assignments will mirror the same concepts and curriculum as in-school counterparts; however, the delivery is adapted to help students succeed in an online environment.
FIRST STEPS to Enroll in SouthWest Metro e-Learning Enterprise (SEE)
A student must be currently enrolled as a student in Waconia Public Schools.
Formally enroll in ONE10 before completing the separate online registration.
Register for virtual school

Elementary (k-5), Middle (6-8), High School (9-12)
Enrollment in the SEE Virtual Schools is a minimum one-semester commitment.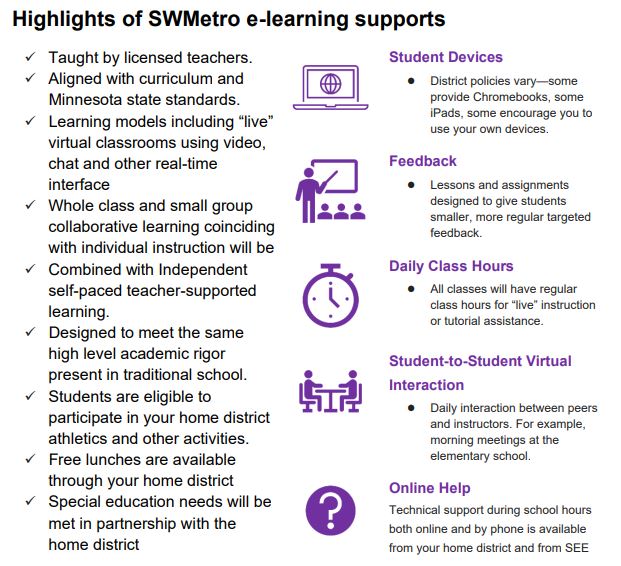 SUCCEEDING IN THE SEE VIRTUAL SCHOOLS STUDENT SKILLS
Capable of submitting assignments and completing course requirements on the provided device

If assistive technology is needed for a student, please advise the district

Able and willing to seek assistance when needed
STUDENT EXPECTATIONS
Students will be expected to engage daily in virtual courses in real-time and to participate in class discussions and respond to the communications of the teacher.
Students will be required to submit all work based on timelines outlined by the teacher.
Just as in any regular class, students should expect some "homework" assignments, that is, tasks to complete outside of regular classroom hours.
PARENT EXPECTATIONS
Ensure their student(s) has the necessary equipment and internet access to participate.
Ensure their student(s) follow their assigned schedule each day.
Encourage their student(s) to seek help when stuck or frustrated.
Communicate academic concerns with instructors as needed.
Ensure all tests and work intended to be completed independently is completed by their student.
Stay informed of all course requirements and deadlines.
AT-HOME AND TECHNOLOGY
Students will use a device and other necessary learning materials provided by the district.
SEE and the home district will provide technical support online and by phone
Families without internet access can request a Wi-Fi hotspot from their home district to use for online learning.
We do NOT provide home printers, ink, etc. for students who choose to participate in virtual schools.
ATTENDANCE & COURSE COMPLETION
Students are expected to engage daily and teachers will be recording daily attendance.
Students must actively participate in their virtual courses with the goal of completing the courses.
Virtual students are expected to complete all course requirements in the time allotted for the course.
OUR PROMISE TO YOU
We will watch for individual difficulties and intervene when necessary
We will offer assistance to students struggling with online academics, including providing paper copies of assignments when feasible
We will team with the district, parents, partners, and all concerned to make your student successful