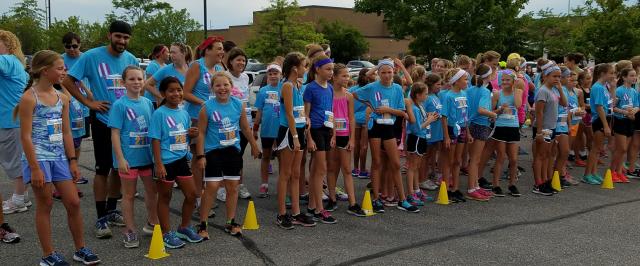 Girls Empowering Girls to Be Strong Inside and Out
What comes to mind when you think of young girls? So often our society paints girls into a corner, making them believe they need to be like every other girl. We would like to introduce to girls a new way of thinking about themselves through a program called More Than Pink. The goal of More Than Pink is to encourage girls to think of themselves as Strong, Smart, and Bold. If we can help, encourage, and empower these girls to think of themselves in this way, imagine the impact they can make in this world.
About More Than Pink
Girls entering Grades 3–6 have the opportunity to participate in this 8-week program offered during the summer months. Girls meet two times per week for 2 hours each day. One hour is filled with lessons on various topics and a group activity, the second hour is used for a cardiovascular exercise. Throughout their time spent together, girls are given the opportunity to journal, ask questions, and get to know other girls. A 5K Fun Run is held at the end of the program.
More Than Pink Topics
Caring for You
Body Image
Feelings
Nutrition
Self-Worth
Puberty
Personal Safety
Healthy Relationships
Gossip and Belonging
Bullying and Peer Pressure
Fashion
Money Management
More Than Pink Partners
Ridgeview Medical Center
Western Suburban Teen Clinic
Waconia Rotary Club
District 110 Staff Members
Coldwell Burnett
Shape It Up Fitness
The Stash
Taylor Hubbard, Photographer
Chelle Vogel, Life Coach
Ridgeview Sports Medicine
Lauren Hackbarth, Teacher/Educator
Sarah Nelson, Zumba Instructor